Best Russian Language Course
Join the most successful Institute to Learn Russian Language
Looking for an Institute to learn Russian easily?
No matter even if you have not been exposed to the Russian Language before. This Russian Langauge course is going to help you speak Russian on an advanced level, with the use of complex sentences confidently, effectively, and effortlessly. 
You have just came across the best beginner to advanced Russian Language course online. This course covers everything you will ever need to speak fluent Russian. If you want to start speaking Russian, planning to for a trip to Russia, want to expand your set of useful skills or do business with Russians, wish to study in Russian universities or work in the Russian corporations, this complete Russian Language Course is indeed what you are looking for. 
Book A Free Trial Class To Have A Better Idea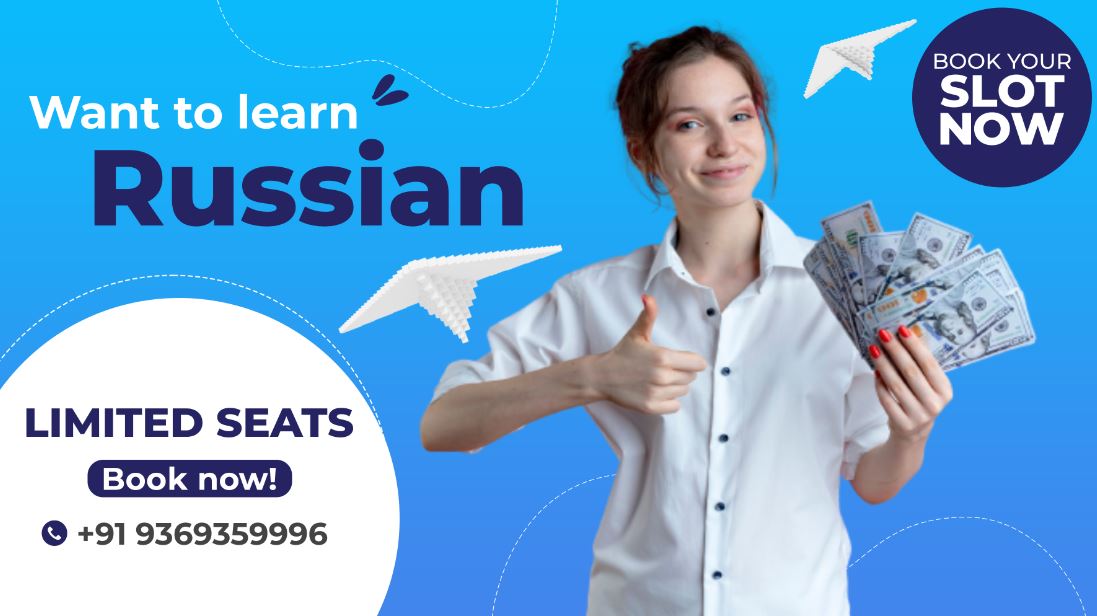 The Russian language is one of the Top 10 of the most popular languages in the world. Learning the Russian Language can literally be your savior if you are going to travel to Russia or have Russian friends or even if you would like to make new Russian friends.
This course offers you the Basics to Advance the Russian Language without having to go through the traditional ways. 
After finishing this course, you will be able to communicate in Russian effectively and gain the ability to understand the Russian alphabet and grammar. You will be able to Introduce yourself and deal with Numbers.  You can be fluent in talking about almost everything in Russian including your family, friends, what you do for a living, how you spend your free time, etc. This course also includes insights into Russian stereotypes and culture. 
To help you practice, free study materials with exercise and quizzes are provided, regular mock tests are also organized for you to keep a track of your progress. 
Introducing The Most Loved Russian Language Course For Students
This most loved Russian Language course is introduced by Callens Institute for everyone who wants to read, write, understand and speak Russian for various purposes like studying in Russian universities, work in Russia, or for social purposes. If you are interested in the Russian language and its culture or have a lot of business contacts in Russia, planing a trip to Russia, or already have a Russian partner, this course is going to be the best choice you would ever make. This Russian Language course comes with many perks like: 
1. Free Trial Classes: Now before you make up your mind, take free trial classes to be more satisfied with what you are going to learn. Discuss your goals in a one-to-one meeting with our highly professional Russian Language Trainers before you start. 
2. Certified Trainers: Your trainers are highly professional well certified. They will not only guide you in your Russian Langauge but will also mentor you in terms of your future and your aims. 
3. Highly Affordable: The system has been designed in such a way that it offers you the language course by charging a bare minimum amount. It never means that the quality is compromised. Callens Institute has always been with students and aspirants which is the reason we make all our courses highly affordable.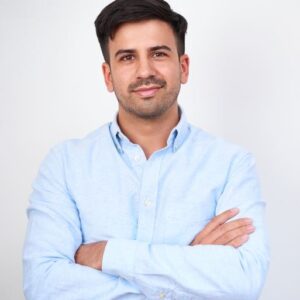 "Whenever you need their support, their teachers are there for you"
We felt at home here. Teachers are very helpful and available for you through WhatsApp even after your classes. Whenever you need their support, their teachers are there for you. It's the fastest growing institute in Delhi, and much better than other old ones. Love their activities and way of injecting lessons. This is going to be the best institute in Delhi and within a year the best institute in India. Everybody must try their free demo class at least once in a lifetime.
Milind Saxena (New Delhi, Delhi) 
"Positive:

 Communication,

 Professionalism,

Quality,

"
This Institute helped me to build my good career. Thanks a lot.
Nisha (New Delhi, Delhi) 
"It brings all students to a bright and successful future"
I'm so fortunate that I got a chance to join the callens institute. and I hope all of you would join the callens institute, it brings all students to a bright and successful future thank you Arpit sir and callens institute.
Vinay Sagar (Jhansi, Uttar Pradesh) 
1. Russian Language from basic to advanced
This course offers you the ultimate command of the Russian language from Basic to advanced level and prepares you to use Russian in your day-to-day life. You will be able to appear for exams after finishing this course. 
2. Russian language grammar
While you will be surfing through the Russian Language, you will be given detailed information on how the Russian language is structured using grammar. Grammatical concepts will help you understand each and every topic you study without having to memorize the concepts. 
3.  Vocabulary from A1 to advanced levels!
The more words you have while communicating, the more effective and effortless your communication becomes. Having a wide range of vocabulary available can also help you to understand the native speakers of the language. 
4. Choose From Online/ Offline
Study schedules are designed to suit everyone's convenience and comfort. You may choose between online and offline batches based on what suits you best and rest assured of the quality of education you will be provided with. Our teachers are well experienced with both Online and Offline modes. Take a free trial to know more… 
The Most-Promising Syllabus
Complete Russian Language Syllabus For Students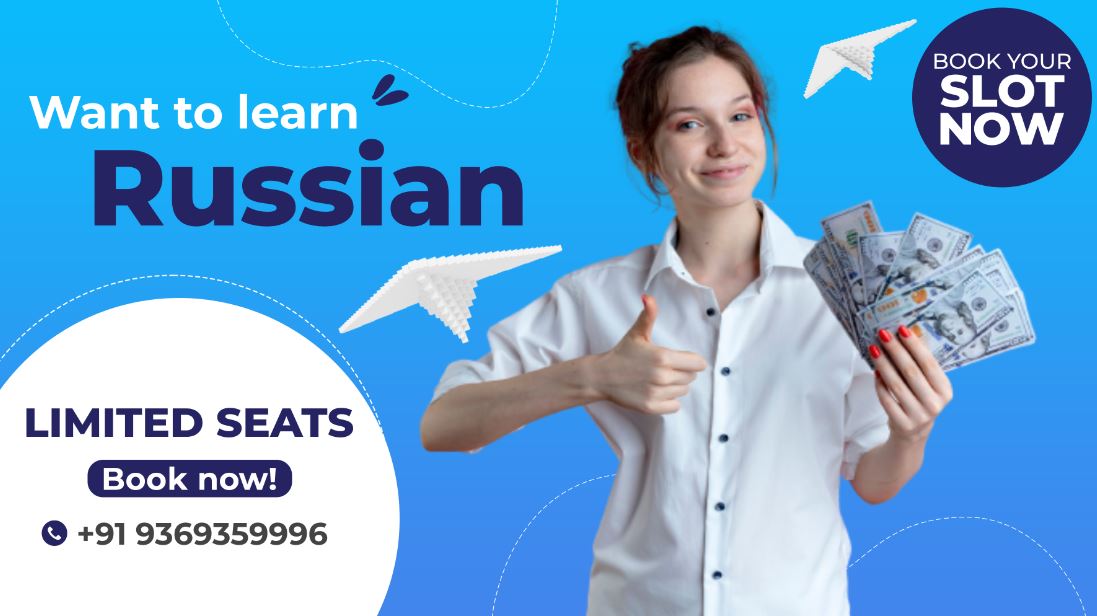 It becomes impossible to learn Russian by just memorizing a set of phrases or concepts because in the Russian Langauge words in sentences are used in the required case. In order to speak flawlessly, you are required to understand how to change words, or what form to use, how the words are combined together. 
With proper guidance and the invaluable support of well-trained teachers, Russian is quite easy to understand as its grammatical structures are precisely developed. Anyone who will study Russian through the right technique will find is very easy to understand and use in routine life.  
Bonus Included When You Join Today
"Get one-to-one classes for straight 7 days to build up your confidence"
Join today and get a bonus of joining one-to-one classes from your trainer for straight 7 days to feel more confident before joining group discussions and debates. Hone your speaking skills with your trainer with no else you divert you from your target. Fill the form today and take a free trial class. 
24x7 Active
Take A Free Trial Before You Book Your Slot
Don't Decide Now – With Our Free Trials You Can Take A Free Trial And Cancel Your Subscription If It Doesn't Meet Your Highest Expectations
Remember you don't have to say YES right now. You only have to say MAYBE. Go through the materials in our free demo class and decide afterwards. 
You can cancel your subscription anytime. No emails, no phone calls, no hassle. Just reach drop us a Whatsapp Message. No questions asked.
Lifetime Access
Join once, and get access to the provided study materials for life time
24x7 Support
With our award winning 24x7 student support team, feel assured. Call, message, mail any time.
Limited Seats
Due to high conversion rate, we have limited seats for this program. Book your slot today!
Book A '
Free Trial

' To Get Started
Rs. 21,000/-
Rs. 6,600 /- (Including GST)
Rs. 598/- OFF Only On One Time Payment 
Most Popular
Pay In Easy Installments
Rs. 21,000/-
Rs. 7,198/-
or pay in 2 easy installments of Rs. 3599 each
*GST charges will apply to Indian billing addresses.
Want To Know More About This Course?
Take A Free Trial Class And Discuss With Your Teacher In A One-to-one Meeting
Don't worry even if you're still confused. Your trial class is absolutely free and is more like a one-to-one discussion with your teacher to discuss your future and your career. You don't have to pay a single penny for this. Click on the button below and book your free trial.